4 cell phone operators bid for 3G, 4G licences
Posted date: : November 3rd, 2013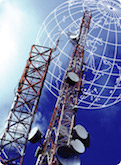 Pakistan: As many as four cell phone operators (CMOs) submitted their bids in order to purchase 3G and $g licenses. On the other, the qualification process for CMOs will be established on April 17. The data of auction of licenses is April 23.
In Pakistan, cell phone companies are desperate to launch 3G and 4G technologies in the country in order to provide high-speed internet speed to their users. Slow browsing speed is the biggest issues for mobile phone users in the country. So, in Pakistan, finally all the companies except Warid are going to roll out 3G services in order to enable people to enjoy high speed internet.
Officials at the PTA (Pakistan Telecommunication Authority) told Daily times that the CMOs, such as Mobilink, Ufone, Telenor and Zong has placed bids for getting license for 3G and 4G technologies, but Warid didn't do so. Monday 4pm is the last date for placing bids for the license auctions.
They said that the CMOs demanded much more than the spectrum set by the Pakistan Telecommunication Authority.
The PTA officials and the Ministry of Telecommunication are of the opinion that the government is probably going to make $1.3 billion by making the auction.