Phone-hacking trial: Rebekah Brooks 'treated sensitively by police'
Posted date: : November 3rd, 2013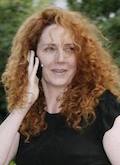 Police treated the ex News of the World editor Rebekah Brooks with sensitivity prior to arresting her, according to the phone hacking trial.
Closing the case of the prosecution, Andrew Edis QC stated that Mrs Brooks was sent a notice and she had time to spend a full day with her attorney prior to being arrested in 2011.
The ex News International CEO was able to make arrangements for stuff to be hidden, said Mr Edis.
She denied four charged associated with phone hacking at the ex tabloid. Mrs Brooks is one of the 7 defendants that deny allegations related to phone hacking during the trail.
In the second day of closing speech of Mr Edis, he said that Mrs Brooks was already told that she would be interrogated and was offered an "option" of police stations.
Before leaving, she spent a full day with her lawyers, to a police station where she was arrested.
Mr Edis let the jury know such arrangements don't normally occur with most suspects caught in a raid then handled by the duty lawyer at the police station.
All of the 7 defendants tend to deny the charges. Let us see what happens in the next trail.