A fake 'mobile-phone bomb' charged a 40 year old man
Posted date: : November 3rd, 2013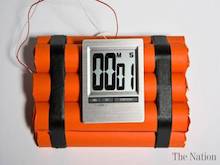 A man was arrested and charged for leaving a fake "cell phone bomb" in the backyard of a women based in Queensland. The age of the man was 40 years.
The police made a record of the event on Saturday when the women collected the "bomb" on Saturday and immediately took it to a police station in Townville. The police took hold of the device and contacted experts to examine it from all angles.
After careful investigation, the experts wouldn't find any explosive content in the device.
The police started search for the person who placed the cell phone in the woman's backyard. Soon the police arrested a 40-year-old man who had a lot of similar items.
The accused will be presented before the judge in Townsville Magistrates Court. He will be charged with creating a bomb hoax with an intention to terrorize the resident of the house.
The investigation is still and the police is trying to find out if the man and the women had any relationship with each other or if they knew each other.
The rising incidents of terrorism has made people more active and police is taking strict actions against people who try to spread terrorism in any way.