Cell phone users boost mobile Internet traffic
Posted date: : November 3rd, 2013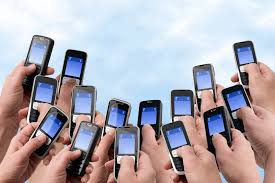 As you know that China has around 30% of world's population. China is also one of the countries where tons of people use the Internet on their cell phones. More and more people in the country are using the cell phones to surf the web. This information was released by government on Monday. Read on to know more.
By January 2014, the number of mobile phone users reached 1.24 billion, the Ministry of Industry and Information Technology reported.
As a result of more and more people using the Internet on cell phones, cell phone Internet traffic is has gone up to a great extent. By January, the traffic usage hit 133 million GB. It got doubled in just one year.
The total revenues earned by mobile companies reached 69.52 billion ($11.36 billion) in January. Last year the revenues were 11% lower than this amount.
From these figures, we come to know that the use of cell phone will go up further down the line as 3G and 4G technologies are being introduced all over the world. According to news, even in Pakistan, both the latest technologies are being launched in the next month or so. Let us see what happens down the road.