Lufthansa Rolls Out Mobile Phone Services With Aeromobile
Posted date: : November 3rd, 2013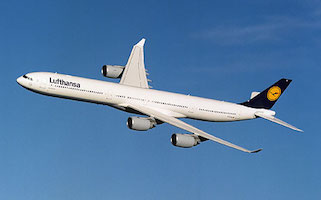 Lufthansa, the largest airline of Europe, has started its inflight phone service working with AeroMobile. Now, passengers can use their phones to send text messages and surf the web on the plane. Read on to know more about this news.
Up to 8 aircrafts are in service already; the German service provider says that it is going to roll out cell phone connectivity throughout its whole long-haul feel of more than 100 planes this year.
The AeroMobile service provider, which lets passengers roam as they would in a foreign country, is available across the select A330s in the said Lufthansa fleet. It flies from Frankfurt and Munich to Middle East and North America.
Once the service has been launched, the customers will be able to keep in touch with their loved ones on their personal mobile phones in the plane.
Here it is important to note that AeroMobile has cell phone roaming agreement with over 240 cell phone operators in different countries of the world, including Three, Vodafone, O2, EE, USA, T-Mobile, AT&T, O2 Germany, e-Pus, just to name a few.
Hopefully, people will appreciate this step by the company, and will find it really useful while they are in the plane travelling to other countries.